Menus
Meals, foods and beverages sold or served at schools meet state and federal requirements based on the USDA Dietary Guidelines. All meals, foods and beverages are prepared and served by qualified child nutrition professionals. We provide students with access to a variety of affordable and appealing foods that meet the health and nutrition needs of students.

School Meal Allergen Statement: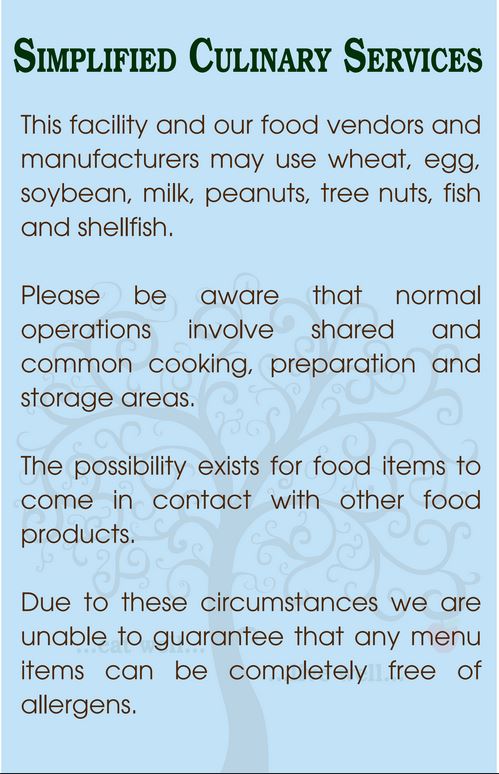 "What's for Lunch?!!!!"

We love the question: "What's for Lunch?!!!!"

The answer is Simple: Well balanced meals, using quality, fresh ingredients with taste and appeal for both our students and staff!
The foundation of good nutrition is balance. Please go over the menus with your children and discuss the choices available. Encourage selection of all components of the complete lunch, especially fresh fruits and vegetables.

Simplified Culinary Services supports and promotes the return to Clean Eating. Our cafeterias feature local, organic, gluten free, hormone and antibiotic free, non-gmo, all natural products on a regular basis


Click arrows to scroll through months

Rumson Fair Haven RHS

Rumson Fair Haven RHS

Manasquan Elementary School

Lunch Menus

Little Silver-Markham Place

markham Place

Spring Lake Heights Elementary School

springlake heights

Henry Hudson SD

Little Silver-Point Road

Point Road School

Rumson-Forrestdale

Belmar SD

Belmar Elementary School

Manasquan High School

Rumson-Deane Porter

Rumson Elementary School District

Oceanport School District

Oceanport Schools

Nutrition Info

Simplified Culinary Services Recipe List.pdf